April 21, 2020 | History | Foxen Winery
Origin Stories with Billy & Dick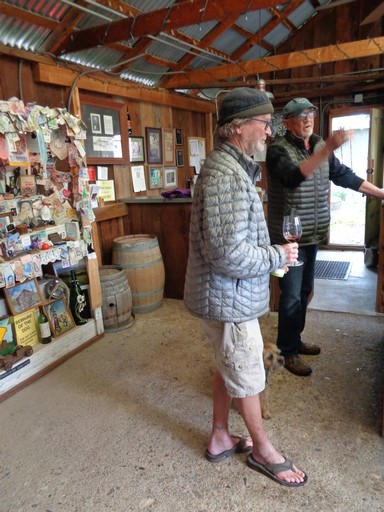 DICK: I met Billy about 45 years ago at a party he was throwing with a mutual friend. He'd just gotten out of Cal Poly and he was up at Mesa Vineyard, which is now part of the Cambria Winery.
BILLY: I see this VW van come rolling down my driveway and park and the sliding door opens and all this smoke comes pouring out!
DICK: Billy and I partied and the following morning I went to work for him driving a tractor - which of course I said I could do but had never done. I had just gotten back from Europe with the family and didn't have a job. I remember the first day of work, I arrived at the door and was greeted with a cup of Columbian coffee and a joint of Columbian pot!
BILLY: I came down in 1975, moved into a house in Tepusquet Canyon and started farming the 220 acres of vines at Mesa. I was introduced to a lot of the locals by the vineyard manager of Bien Nacido at the time, Jim Bellich, who is still a dear friend of ours. Those vines were planted in '72 and FOXEN is still getting fruit from those old vines. I was there till '78 when I went to work for Chalone. I came back in '81 and moved back into the Tepusquet house.
DICK: So we decided to start making wine together when Bill got back from Chalone. It took us four years to sort of get our act together. We pressed our first crush up on the basketball court I had put in up the hill here. I lived here on the property for 33 years and had put in a basketball court. Billy bought some old American oak barrels and sterilized them with bleach and citric acid. I think we had four barrels that first year. Did we buy that Italian stemmer/crusher that year?
BILLY: Yeah. It was really dangerous!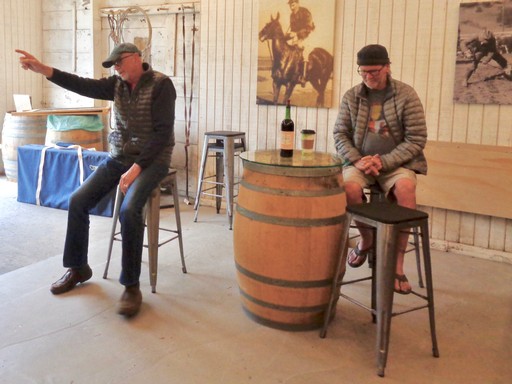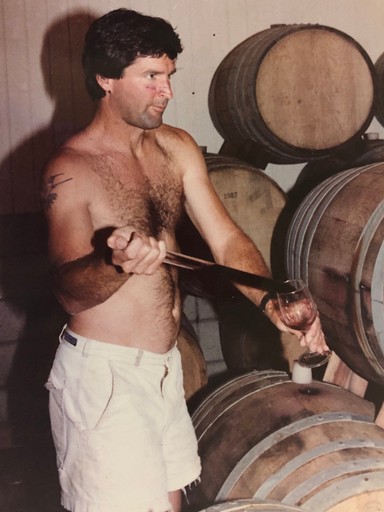 DICK: Very dangerous. So, we borrowed a press from Harold Pfeiffer at Rancho Sisquoc and pressed on the back of our pickup truck on the basketball court. We had our four barrels up there and had to get them down here to the Shack, which was going to be our barrel room. So, we sort of made a railroad track with railroad ties to get the barrels into our pickup truck and brought them down here and did the same thing. A barrel weighs about 600 pounds, so we were praying that the bungs wouldn't pop out!
DICK: In 1985, the original Shack was in complete disrepair. We fixed the doors, we fixed the roof - sort of! We poured a concrete slab behind it, which was our crush pad for the first ten years. Eventually, we took over the barn as our barrel room.
BILLY: One room was the whites, another was the Pinots, the main room was the Bordeauxs and the Rhones were down below.
DICK: Until one year when we made too many Rhones and had to take over the tractor shed. We had barrels here, there and everywhere. It was insane!
BILLY: In '87 we did our first Chenin Blanc, Chardonnay and Pinot Noir. We had twelve barrels by then.
DICK: We sort of opened up the tasting room - we had the FOXEN OPEN sign. We were totally illegal, so we put out the sign on the weekend and pretended we didn't exist during the week.
BILLY: Dick worked Saturday and I worked Sunday. But, Dick would work from his front porch!
DICK: Our first customers were a carload of girls who came in and said, "Hey, your wine's pretty good! How much is it?" and I said twelve bucks a bottle and they said, "That's too much!" and walked out.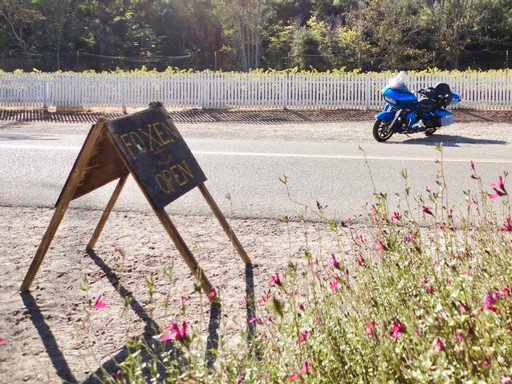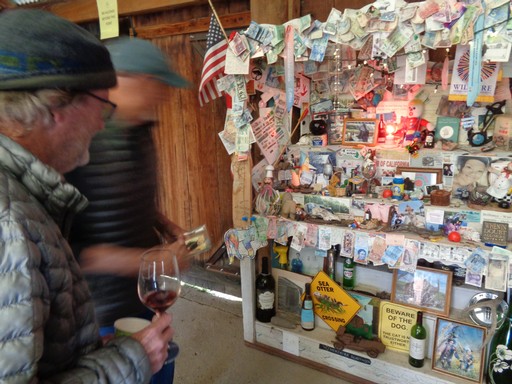 BILLY: There was always cold beer in the fridge and always a football game on the black and white TV. That went on till '89 or '90. One Sunday, a limo came in at 4:00, everyone completely sh*tfaced and I decided I was fed up with dealing with the public and told Dick "I quit!". He said "Well then, I quit too!".
DICK: That's when we hired our first employee, Sandy, a bartender at the Hitching Post. She was the inspiration for the Virginia Madsen character in Sideways.
BILLY: We started making more wine at a certain point and decided we wanted to buy some new French oak barrels.
DICK: French oak was expensive - around five hundred bucks a barrel. So, we came up with the Barrel Subscriber program. We called up a bunch of our friends and offered them a case of wine and a dinner party every year if they'd buy the barrel for us. They'd decorate them with cartoons and what not.
BILLY: The barrel subscriber dinners became notorious. We had pumpkins and gourds with flower arrangements on the tables as centerpieces and at the culmination of the dinner, we'd always have a centerpiece toss. It became very competitive. One year, a bus full of German tourists happened upon one of our dinners and joined in the toss! It was off the wall!
DICK: We poured this 1986 Cabernet Sauvignon at the second Santa Barbara Vintner's Festival ever, which was held at Flag Is Up Farms in Solvang.
BILLY: Still holds up! Cheers!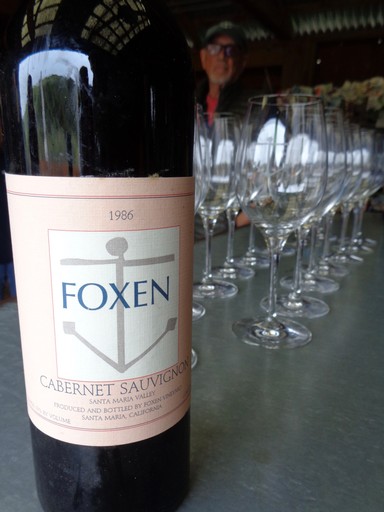 Comments
Commenting has been turned off.