The People
---
Dick Doré
Founder & Director of Sales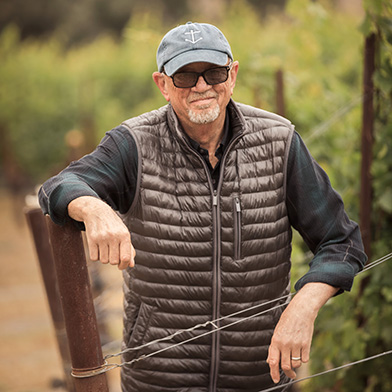 Dick began Foxen in 1985 with his close friend Bill Wathen on his family's land in the Santa Maria Valley. The Rancho Tinaquaic, where the winery is still located today, was purchased in 1837 by Dick's great-great grandfather, William Benjamin Foxen. Dick gained his love of wines while living and travelling with his family throughout Europe and brought that passion for great wines back to Santa Barbara County. Dick and his wife Jenny make up the Foxen Sales and Marketing team leadership and live on one of the estate vineyards, the Williamson-Doré Vineyard, in Santa Ynez, California.
Bill Wathen
Founder & Director of Winemaking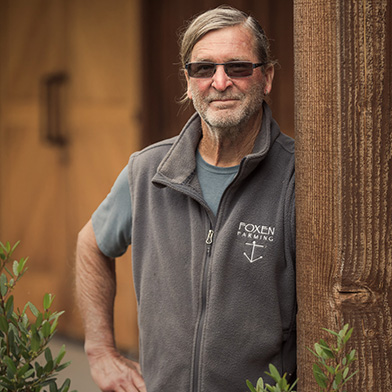 Bill was born and raised in San Luis Obispo and graduated from Cal Poly University with a degree in Fruit Science and Vineyard Management. He began his career farming vineyards for Louie Lucas and then as vineyard manager at Chalone Vineyard. At Chalone, under Dick Graff, Bill learned French winemaking techniques and gained a love of Old World wines. In the early '80s he returned to Santa Barbara County, and in 1985 he and Dick made Foxen's first wine on Dick's basketball court at the Rancho Tinaquaic. Bill's wine making philosophy has always been "… respect the vine and let the wines make themselves with little or no intervention." Bill lives in the Santa Ynez Valley with his wife Becky, who is Foxen's Controller.
---
David Whitehair
Winemaker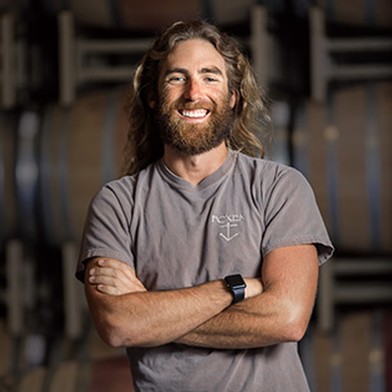 David was born and raised in the Santa Ynez Valley, a true "local boy." In 2006 David began his winemaking career at Brander Winery in Santa Ynez, and expanded his experience with Cloudy Bay in New Zealand and then Chalk Hill in Healdsberg, California. David then returned to his beloved Santa Barbara County, and a chance meeting with Bill Wathen led to his immediate hiring at Foxen in the fall of 2007. David became Foxen's assistant winemaker in 2008 and was promoted to winemaker in 2016. David sums up his experience at FOXEN as, "a privilege and an honor to be Billy's apprentice"…and that winemaking "begins with the vines and soil and ends in the glass. It's a fine balance between science and art." During lunch breaks you can find David running along Foxen Canyon Road training for mountain climbs and marathons with his dog Zeke.
---
Jenny Williamson Doré
Director of Marketing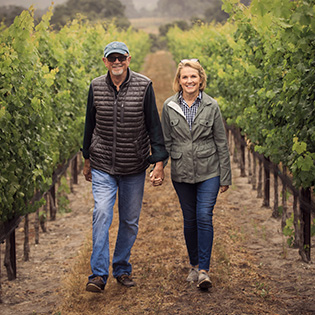 Jenny has been involved in the Santa Barbara County wine industry for over thirty years: primarily in communications, marketing, and sales. In 2001, she left her position as the Director of Sales and Marketing for Cambria Winery to be alongside her husband Dick at Foxen. Jenny and Dick are settled in the Santa Ynez Valley where they enjoy life as growers of their eight-acre Williamson-Doré Vineyard, and travel—for both Foxen business and pleasure. When she's not out selling wine, Jenny can be found tending her garden or playing with their many grandkids.
Becky Barieau Wathen
Controller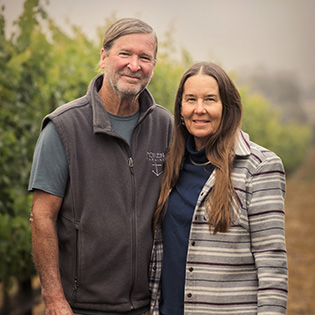 Becky went to college in Santa Barbara at UCSB and then graduate school at UC Berkeley led to her MBA with a focus on accounting and finance. She returned to Santa Barbara in 1982 and she and Bill were married in 1984. Becky is a self-employed CPA, specializing in the wine industry. She spends most of her working time overseeing things at Foxen, but she has several other winery clients. Becky served multiple terms on the Santa Barbara County Vintners Association board of directors, and was a founding member of the Santa Barbara County Vintners Foundation. Today she sits on the executive committee of the board of Santa Ynez Valley People Helping People. Becky is a bookworm. She and Bill love road trips and gardening together.